Fun in Central Pennsylvania!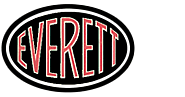 First Run of 2008: The Everett Railway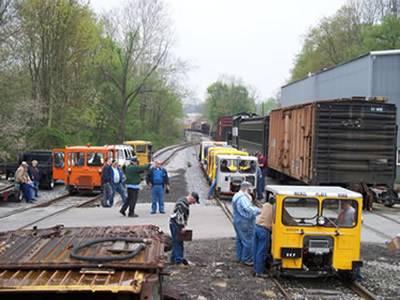 A busy but smooth seton at Claysburg Pennsylvania
The weekend of May 3 and 4 were the dates and beautiful Central Pennsylvania was the place for two great springtime runs.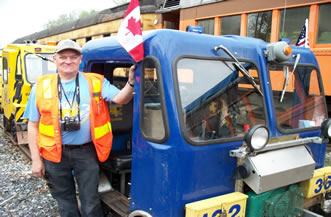 John Brown proudly represented Canada.
On Saturday, Gary and Eileen Shrey hosted a picturesque run on the Everett Railroad. Part of North Shore group, the Everett Railroad Company is a class-III railroad offering carload freight service in Blair County, Pennsylvania. The Interchange carrier is Norfolk Southern at Hollidaysburg, PA. The Everett Railroad Company serves the communities of Roaring Spring, Martinsburg, Curryville and Claysburg and has provided freight service to Pennsylvania's Blair and Bedford counties for over fifty years.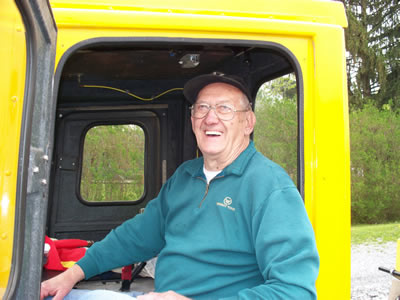 Harvey must be having fun!
Early overcast skies at seton gave way to a beautiful day for rail speeding. Gary has coordinated rides on this road for eight years and the excursions get better every year. As Eileen checked us in and checked our paperwork, Gary had his assistant excursion coordinators inspecting cars before seton at the Claysburg yard. These checks were especially important since for many of us this was the first run of the year.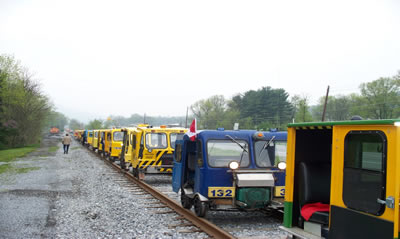 Lined up and ready to go
From Claysburg, we traveled north to Hollidaysburg. We turned the cars and traveled south to the restored Roaring Spring station, a former Pennsylvania Railroad stop. In Roaring Spring, the local volunteer fire department had prepared a great lunch. Gary thoughtfully allowed us to preorder and pay for our lunch when we registered for the excursion, making the lunch stop efficient. After lunch, we continued south to Martinsburg, back through the wye to turn the cars, and retraced our route back to Claysburg.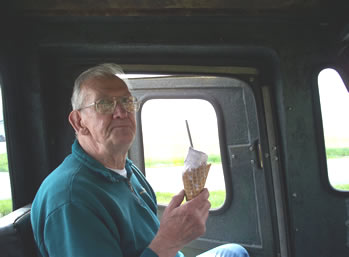 The engineer sent his flagman to get ice cream!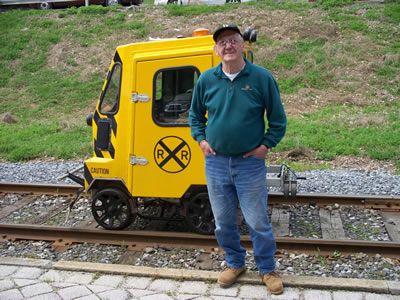 Harvey at Roaring Springs Station
As this was a run early in the season, we experienced a few breakdowns along the way. Gary and his ECs were on top of each situation. Our railroad host helped flag and dropped signals at all major crossings, making our trip most enjoyable. The rain held off all day, but as we approached setoff, the rain returned to remind us that it was still spring. Setoff was a bit damp for some of us! Hats off to Gary and Eileen Shrey for a great day on a scenic railway! On to the Nittany and Bald Eagle Railway tomorrow!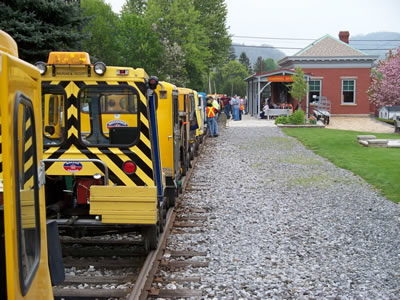 Lineup at Roaring Springs
[Dan wrote this article for the Setoff September-October 2008 issue]