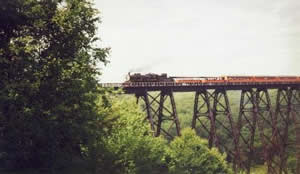 Kinzua Bridge Intact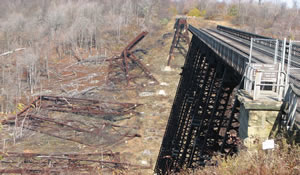 Kinzua Bridge Now
A Speeder Excursion to a Famous American Railroad Landmark
On October 25-26, 2008, NARCOA members from eight states and Canada made what may be the last rail excursion on the Knox and Kane (K&K) Railroad from Marienville, PA to the Kinzua Bridge. This road, built by The Pittsburgh, Bradford and Buffalo Railroad, was completed from Knox, PA through Marienville and Kane, and on to Mt Jewett in 1883. It was taken over by the Pittsburgh and Western in late 1883, and then in 1902 by the Baltimore and Ohio.
In 1982 the road was bought by the K&K. The K&K ran a combined freight and passenger line from 1982 to 2002. The freight traffic was mostly glass making sand and coal for industries that are now gone. The main attraction of the K & K tourist service was a trip over the Kinzua Bridge. The viaduct was extensively damaged by a tornado in 2003. When the State of Pennsylvania, which now owns the viaduct, could not afford to repair it, the railroad lost its major tourist draw, and shut down after a disappointing 2004 season. On October 10-11, 2008, the railroad's rolling stock was auctioned off, and the property was sold to a scrap company, The Kovalchick Corporation. The two steam locomotives, although damaged in a fire, were bought by operating railroads.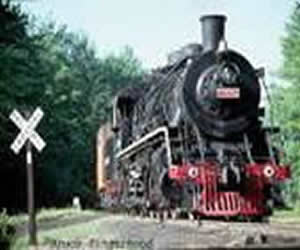 Knox and Kane Steam
Gary and Eileen Shrey along with Dale and Cathy Steiner of Northern Central Railcar Association coordinated this historic and scenic two day excursion on the Knox and Kane. The K&K did not welcome speeder excursions, but Gary's previous safe excursions on other railroads owned by Kovalchick made this run possible.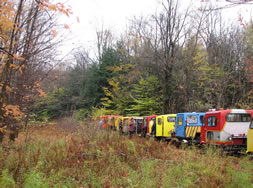 Starting out
Gary warned us that the railroad has not seen any traffic for several years, and was overgrown in places. Many crossing flange ways were filled with pavement or dirt. Gary said, "We will clean the ones we can and drive slowly over those we can't. If you don't want to drive through brush or weeds, don't come."
Gary and Dale (and their wives), Jamie Haislip, John Schmidt, and Rich Steiner (a local friend) did a survey run in September clearing the crossings. This Kane Republican, on October 16, about the upcoming run.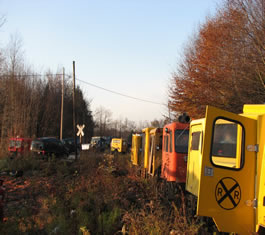 Lineup to cross a highway
Since that time, bad weather had moved through the area and resulted in over twenty trees falling across the tracks. This necessitated another work party on Friday, October 24. Gary and Eileen Shrey, Jamie Haislip, SETOFF Editor Wayne Parsons, Mark North, and Dale and Cathy Steiner ran the track from Marienville to Kane again to clear the trees. Thanks to their efforts, there were few delays during the excursion. We found the track to be in generally good shape, but overgrown with brush, and the flange ways at crossings rough. It was cold and wet on Saturday morning at set-on in Marienville. After our safety meeting, 23 cars headed north east from Marienville towards Kane, 34 miles distant.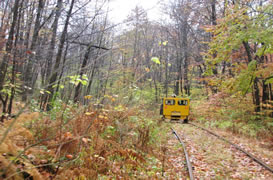 In the Allegheny National Forest
At this point, the K&K runs through the Allegheny National Forest, the only national forest in Pennsylvania. At over 500,000 acres, this national forest is scenic and provides year round outdoor recreation. Impressive in size, age, and condition, the forest has many species that provided some awesome fall colors and wildlife.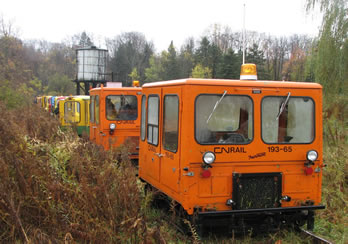 A cars lead the way
Gary put Jamie Haislip and Mark North in the lead with their big A cars, reasoning that the heavy cars would help cut the flange ways deeper. During the trip, the crossings were flagged by Eileen Shrey, John Hafer (a former K & K engineer, Cathy Steiner, and Jim Woods (a former K&K fireman). We arrived at Kane at 11:30 am, turned on the wye, and backed down into Kane station. There the group had a chance to inspect the two steam locomotives. After lunch, we returned to Marienville, and were all setoff by 5 pm.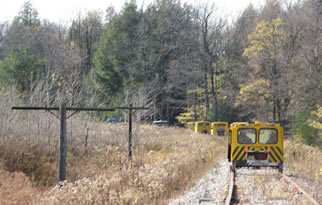 Headed back to Marienville
Sunday came with cold and windy weather, but it was a glorious fall day by 10 am. We drove the 25 road miles to seton in Kane. From Kane, we ran north east 16 miles through the towns of Kane and Mt. Jewett, and then on into the Kinzua Bridge State Park.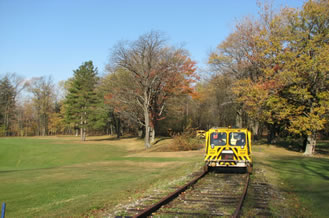 007 on the golf course
The tracks run through the center of the local golf course, and we surprised a few late season golfers. We stopped a few times along the way to clear tress and flange ways. At the park, we were met by park rangers who gave us a short presentation on the history of the bridge. While enjoying box lunches from a local restaurant, we answered questions from park visitors about our motorcars.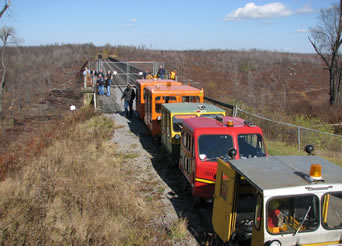 Lineup at the Bridge
The return to Kane was much faster, and we were all setoff by 3 pm, and on the way home from this delightful and historic run. Special thanks go to Gary and all his helpers who made this run possible. Gary's attention to detail, including finding a great place for us to stay, preparing packets of information for each car, and working hard to make the entire operation run smoothly made this excursion fun for
all of us. Thanks Gary!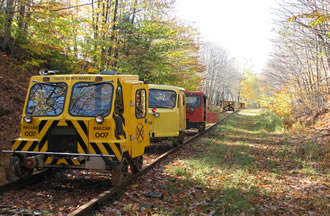 Coming back from Kinzua Bridge
The future of the tracks that once were the Knox and Kane are now in doubt. The track may be removed, or perhaps the crossings will be paved over making them impassible to speeders. Gary will try to arrange this run again in the spring of 2009, but there are no guarantees this will be possible. For now, those of us who went on this unique and historic run have made some great memories.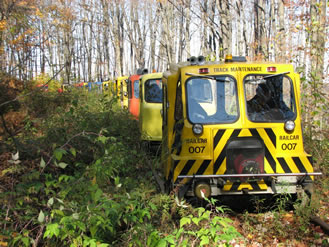 There's a track here somewhere!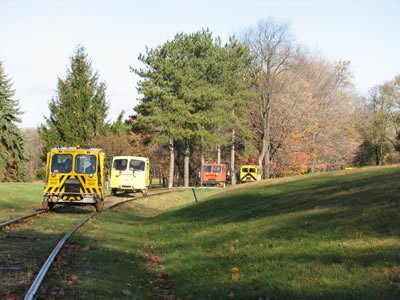 Fore!
[Dan wrote this article for the Setoff January - February 2009 issue]

Speeder photos by Mike Gravel