Eagle Mountain Railroad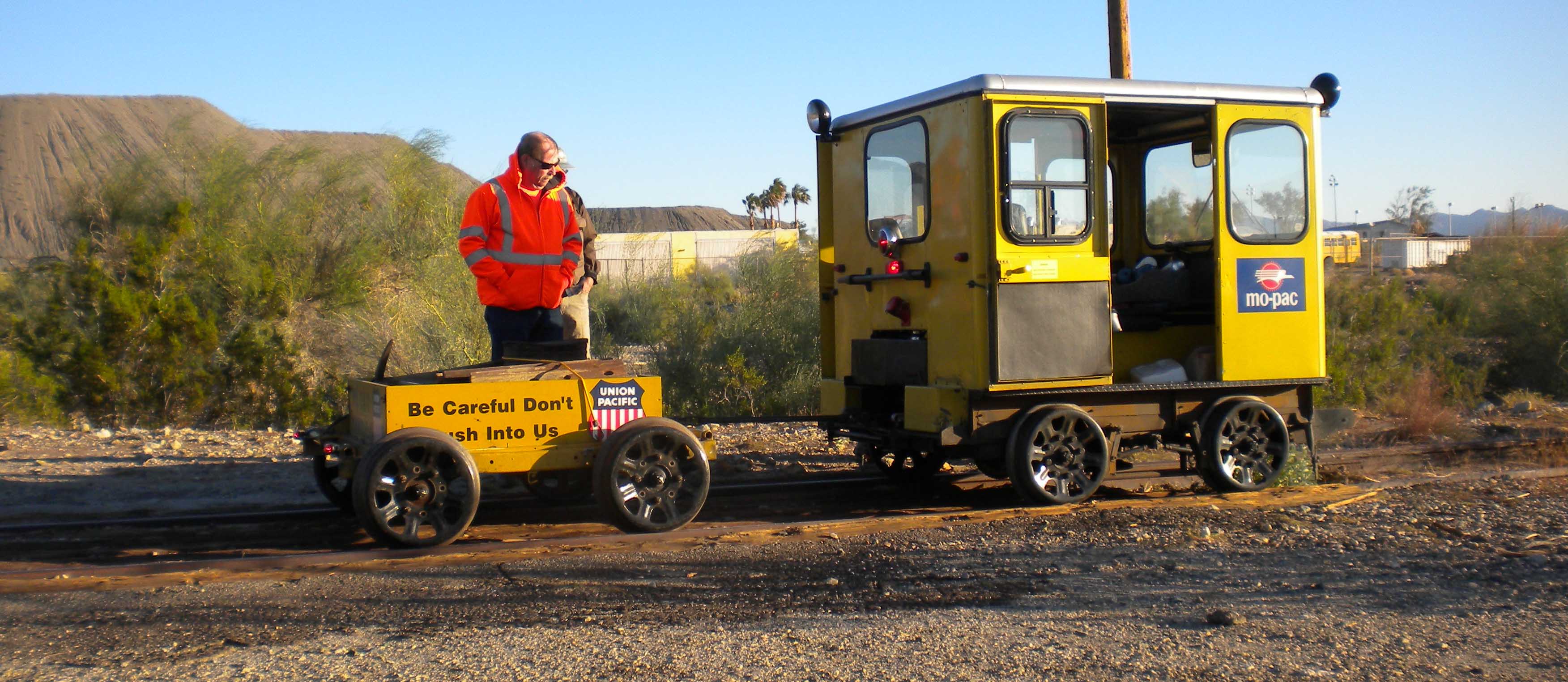 Wayne's MT-19 with trailer
Excursion Becomes Work Party
Through the generosity of his partner, Wayne Parsons, Dan has been able to particpate in several California rail excursions. Wayne has genrosly invited me come along on several occasions. The firt of these trips was to Desert Center, California. This is about 40 miles east of Indio the southern desert region of the state.
The railroad we operated on is called the Eagle Mountain Railroad and it has an interesting history. The Eagle Mountain Railroad (EMRR) is a private railroad in California, owned by the Kaiser Steel Corporation, and is owned today by Kaiser Steel's successor, Kaiser Ventures, Inc. of Ontario, California. The EMRR is 51 miles (82 km) long and is located in Riverside County, California. Constructed in 1947-1948, it was used until 1986 to haul iron-ore from Kaiser's Eagle Mountain Mine to an interchange with the Southern Pacific Transportation Company.
Dan and Wayne went out the day before and stayed in Indio, CA. Dan pulled a second trailer loaded with motorcar trailer to carry supplies for the trip. On November 5, 2011, at the request of the railroad, a work party of twenty NARCOA members repaired rail on the Eagle Mountain Railroad. Originally scheduled as a regular run, the event was changed to a work event due to slow sign-ups and vandalism done to the rail. As a result of the damage, we had to replace ten joint bars and we re-laid one rail.
Set-on was near the Kaiser Eagle Mountain Mine at MP 49. The group operated south to MP 33.5, made the repairs in two hours, and continued on to the speeder sheds below I-10. A second run was made in the afternoon bringing the total distance to 82 miles for the day.
Recent rains have caused more washouts on the line including one at MP48 where the rail has been totally undermined at a culvert. Future excursions cannot cross this culvert and will have to set-on at I-10 or await repairs by Eagle Mountain.
New operator Chris Maes was mentored by Don Breitbarth. Our Wildlife Biologist again was Steve Gardner. The other "track workers" that included Jack Bodenman, Harley Davis, Robin Douglas, Karl Havanitz, John Helmuth, John Kersey, Stephanie Marks, Raul Montes, Lynne Maddy, Richard Nelson, Bill Nelson, Wayne Parsons, Dan Page, Dan Phipps, Richard Rugel, Ken Saunders, Edward Smith, Blair Van Vliet, and Richard Waltz.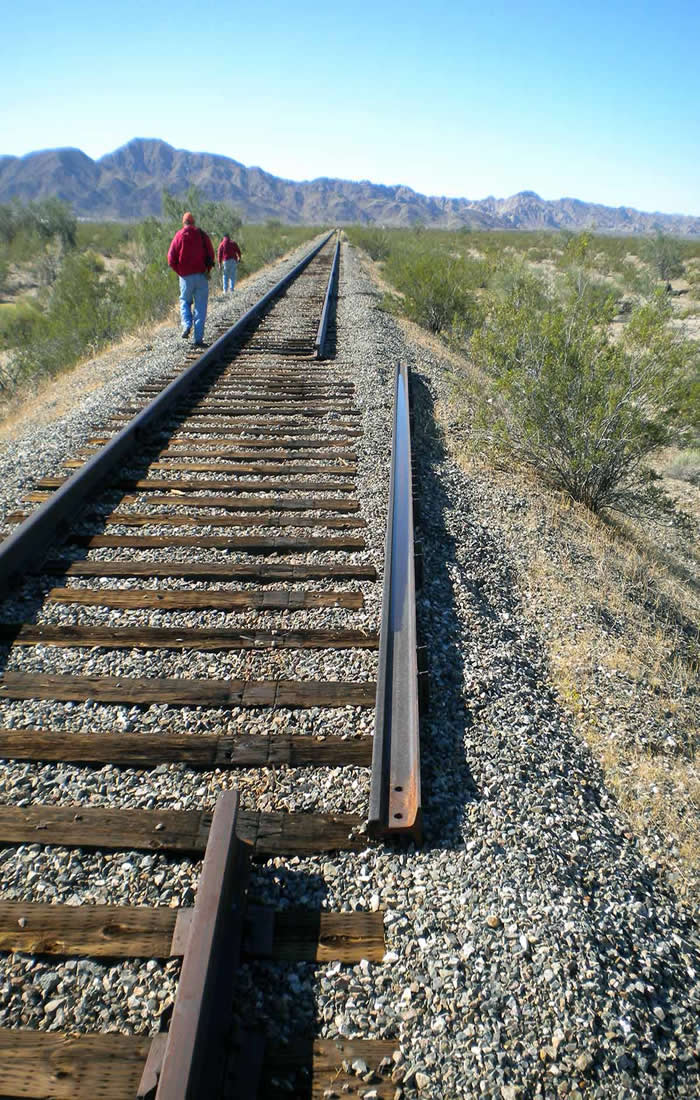 Vandalism on the Eagle Mountain RR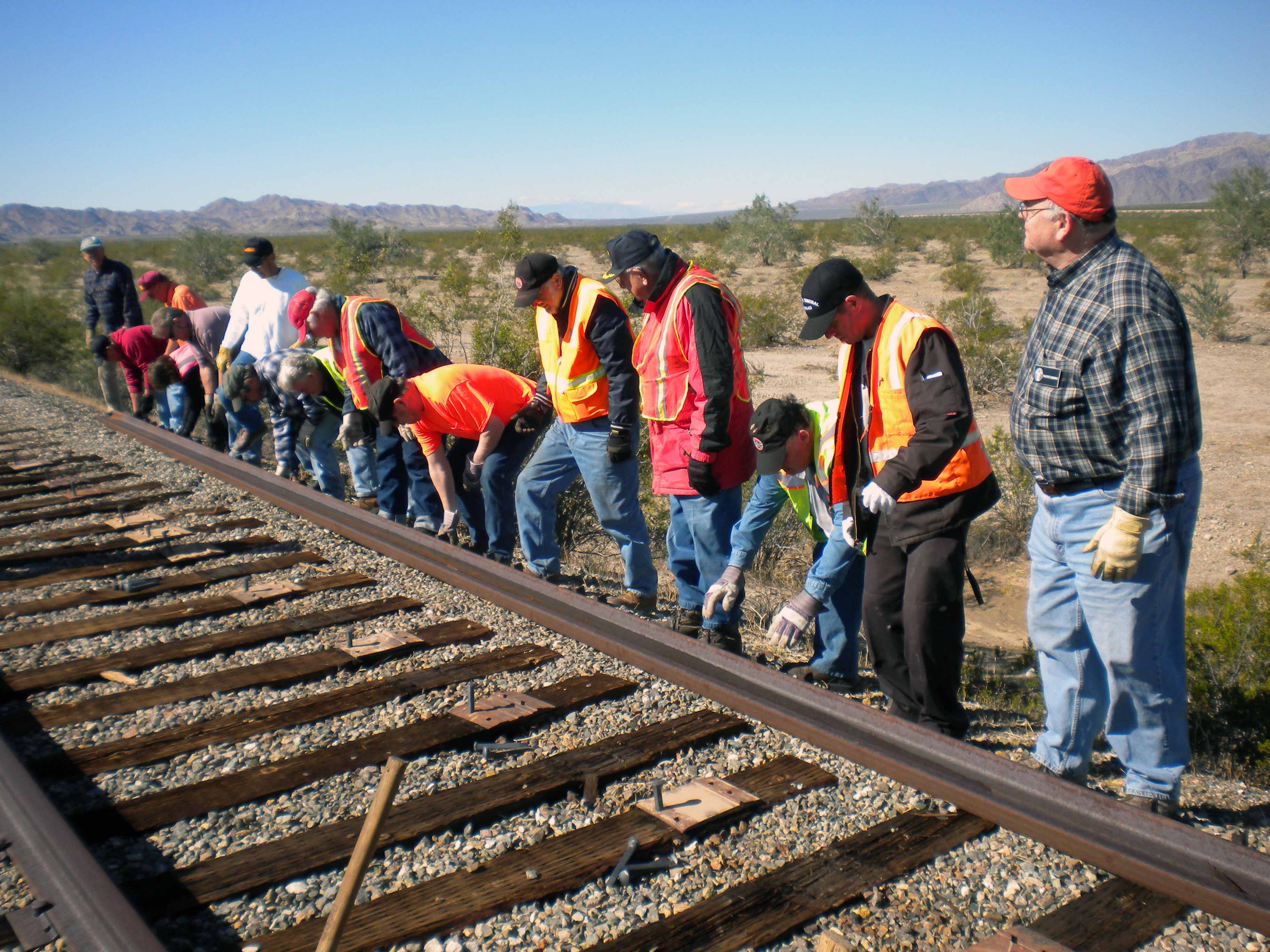 Rail Gang Ready!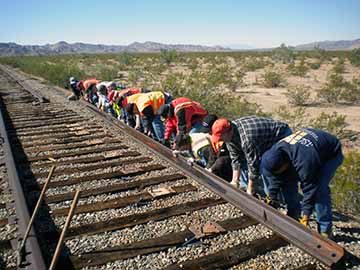 Moving the rail back in place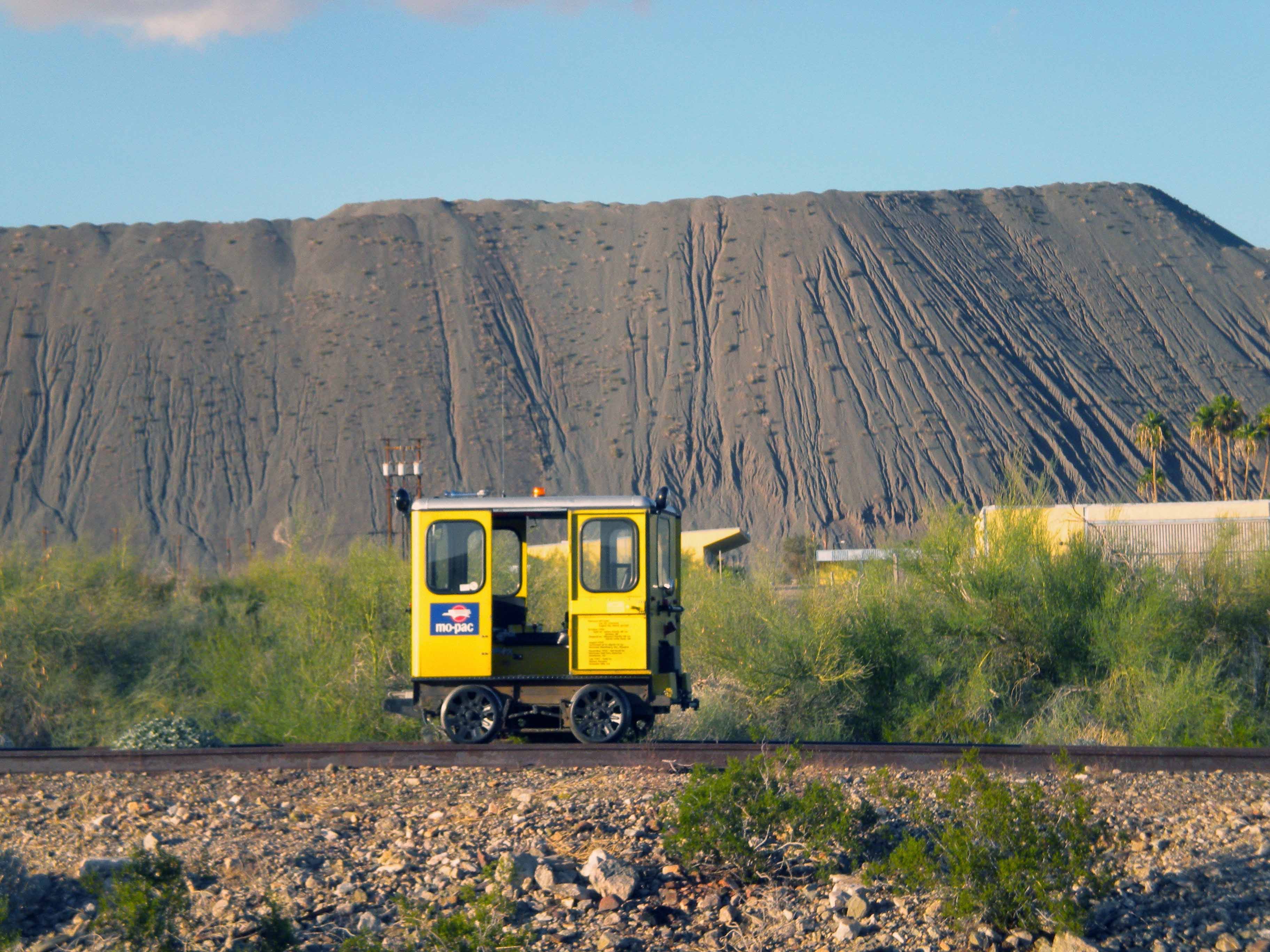 Wayne Parson's MT-19 on the Eagle Mountain Railroad